Secret Retreats is a collection of nearly 100 independently owned boutique hotels, residences, restaurants and cruises throughout Asia offering authentic travel experiences that go beyond typical offerings and connect to the very heart of Asian culture and traditions. At Secret Retreats properties, guests unlock the secrets of Asia accessing highly unique experiences though memorable stays that showcase the local community, culture, cuisine and atmosphere.
---
---
«
Our home is your home
»
We believe that luxury is not about acquiring extravagant products and lavish facilities - the intrinsic value of luxury cannot be derived from a monetary exchange, rather it is found in the
enriching moments that are shared while cultivating new connections and experiences
. Secret Retreats members are
vibrant advocates of their surroundings
and also share common values when it comes to supporting environmental conservation, and the preservation of local cultures and communities in which they are based to ensure continued opportunities for both locals and travellers.
Bound with a mission
to discover the true essence of Asia,
Kim is our explorer and hero
---
READ KIM'S STORY
---
Kim, The Explorer
---
During the course of his travels in Asia, he stays at every Secret Retreats property, dines at all our restaurants, and meets with each Secret Retreats owner. As a testimony of his love for the continent and Asian hospitality, Kim shares his passion for Asia, its people and their cultures, the diversity of their cuisines and traditions, their art and history, and the beauty of the nature that surrounds them with all of us.

"I have no culture, no country. I belong to them all" my father used to say.
Kim, the discoverer.
---
Bruno Ferret
(Executive Director)
A French national based in Bangkok, Bruno is a leading expert in tour operations in Asia and beyond. He lived and worked in Asia for two years prior to founding his own company Ateliers du Voyages, which he sold in 2009. Since then, his innate passion for Asia has never ceased to linger, and he has now formed a new company KHOWAN, which currently comprises three wondrous hotels in Asia: Samar Villas in Siem Reap, Villa Mathis in Bali and Muang La in Laos.
Stéphane Junca
(Managing Director Secret Retreats)
A French national who divides his time between Bangkok and Bali, Stéphane is a leading hospitality marketing expert who has spent the past 18 years living and working in Asia. Amongst other things, he has been responsible for the development of various hospitality projects in China, was previously the Director of the hotel Tugu Bali and most recently was the Regional Director Asia Pacific for Relais & Châteaux. Insatiably passionate about locating innovative and intimate sanctuaries, he spends more than half his time in search of new hidden treasures across all of Asia. His biggest passion though is to guide and counsel the owners of these magical properties so that they can be even more refined and unique experiences for guests.
Siew Fong Wee
(Director)
Born in Singapore and based in Shanghai, Siew Fong is the founder and managing director of JIA, a pioneer lifestyle studio in Shanghai with a sensory-based movement practice adapted from Shaolin wisdom (the birthplace of martial arts and zen philosophy) to empower people by connecting the body, mind, emotions and spirit. JIA epitomizes a lifestyle of health, harmony and balance, bringing you and your families and friends together to rediscover yourselves.
---
---
Elizabeth Soriano
(Copy Writer)
Born in the USA but raised in Paris and London, Elizabeth is a freelance writer/editor specialising in culinary arts and travel, and French translation. She has lived in Singapore since 2003. She trained under three 3-star Michelin chefs: Roger Vergé, Daniel Boulud and Jean-Georges Vongerichten. In addition to being the Asia Pacific copywriter for Starwood Hotels since 2008, she has edited two travel guides for Relais & Châteaux and written 100's of articles for myriad publications.
Paul Walker
(Director of Operations)
Paul's professional background was sales and marketing but through a chance meeting 12 years ago he stepped into hotel management. He managed one of Chiang Mai's first and most respected boutique hotels for more than 8 years. Paul continues to live in Chiang Mai with his family where he speaks the local language and has made many friends within the art and culture movements around Chiang Mai. He enjoys nothing more than sharing the stories and experiences of his Asian home with guests and visitors alike. A keen motorcyclist, a lover of history and art, and perpetually seeking fascination and wonder Paul has made Asia his home for more than 15 years.
Zhou Yan
(Director Secret Retreats China)
After 7 years as General Manager of a luxury business hotel, Zhou Yan opened the first Youth Hostel with International standard in 2004, in the very center of Kunming, Yunnan. Back then China was opening up and the building of infrastructure was faster than the training of Human Resources. With her team she has worked on research, management and hospitality training to open classes and share her knowledge with younger generations. Secret Retreats being a perfect application of her teaching: hospitality with humanity and heart, she is also heading the new team of Secret Retreats China, in our Kunming Office.
Whoopi Mun
(Director Secret Retreats Korea)
Whoopi was born in South Korea and has been working in the Tourism field for over 20 years, in different positions: Sales and Marketing for Luxury properties all over the world for Korean Market, Operation for Corporate Travel / FIT / Honeymoon / Family / Incentive tour, Tour Program as well as Manager of Boutique Hotels in some Hanok in Korea. With her rich experience and understanding of travel, Whoppi is naturally in charge of Secret Retreats office in Seoul, with the ambition to share the cultural heritage of Korea to all visitors, as well as open other Asian destinations to Korean market.
Dewa Dwi
(Webmaster)
Born in Bali and graduated from Yogyakarta Gadjah Mada University in Informatics Engineering, Dwi started his career as Network Infrastructure and Internet Engineer, in one of the pioneer Internet company in Indonesia in the early 2000s. After 10 years in projects, he came back to programming and coding and specialized in web design and optimization. He joined Secret Retreats in 2014 to head the team in charge of our Website, Design and Optimization.
Bree Surathin
(Communication Manager)
Originally from Bangkok, Thailand. She spent her education years in New Zealand and further in United States. Having worked as a PR and Marketing specialist in Chiang Mai, she has extensive experience in this field for more than 7 years. She has a keen interest in art, culture, traveling and history. Also, growing up in multicultural environment, she loves to share her knowledge and experience in her writing.
Tina Zhao
(Reservation & Marketing Secret Retreats China)
Originally from Yunnan, Tina has a long interest for small hotels and a focused her work experience in marketing and management unique and small accommodation. She has been working for over 10 years in China in managing several small hotels, before she jumped on the other side and join a travel agency to design travel itineraries for guests looking for customized journeys. In 2015, she moved to Palau Island in the Pacific Ocean, in charge of guest relation and marketing for a boutique diving resort, and in 2016, she joined the team of Secret Retreats and opened with Zhou Yan the office in Kunming, Yunnan to develop the brand and its marketing in China as well as handle guest enquiries and reservations.
Nopakarn Ariyaphokhinan (Oil)
(Assistant to Managing Director)
Raised in Chiang Mai, Nopakarn Ariyaphokhinan (Oil), is an energetic young professional with a passion for travelling and cooking. She joined Secret Retreats in 2016 and loves to share her knowledge about Lanna culture with guests. In her spare time she visits historical places around Thailand, and looks out for native ingredients to cook with.
Rosetta Hon
(Press Relation - Asia and Greater China)
Rosetta has over fifteen years of PR and Marketing industry experience in Asia; she has worked in production house on mega events and concerts across Greater China and was part of external affairs team for Commercial Radio HK. She then joined a hospitality and lifestyle PR agency for 10 years where she provided strategic direction to different clients and support regional offices to ensure the success of the client/agency relationship, in particular on issues management. Rosetta has joined the team of Secret Retreats from the start!
Nattinee Kulsin (Bird)
(Chief Concierge)
Bird is an inveterate traveller and has travelled extensively over Asia, passionate about culture and history and always finds unique places to eat. For her, travelling is about enhancing the journey in every way possible. This includes wonderful conversations with local people, eating delicious traditional food with unique tastes, and learning about the history of key attractions through the eyes of a native. As our Secret Retreats concierge, Bird is ever eager to share special activities and options to ensure guests experience treasured travel moments.
Itthiphon Panyaloet (Offy)
(Reservation & Concierge)
Born and raised in Northern Thailand, graduated with BA in Liberal Arts of Literature. He has many years of experience in the hospitality sector by starting off in a boutique hotel. Having a high passion to travel the world, and learning the culture, traditions, and way of living. He is also interested in trying cuisine from around the world as well as architecture, design, and art. Having joined Secret Retreats really opened an opportunity for him to learn more about foreign culture and food and travel in the most interesting style.
Phetcharat Chaiwong (Nancy)
(Community Manager)
An international traveler to over 20 countries in Europe, Asia, and America, Nancy also has over 10 years of working experience in the hospitality sector which includes 5 years managing a boutique hotel in Chiang Mai. Graduated with BA, in Business Information Systems Nancy worked as a Programmer and Web Master before turning into a hospitality person. She recently received a certificate from Google Fundamentals of Digital Marketing also has experience building hotel websites, hotel video production, writing storyboards, and web content writing (In Thai).
Kat Johnston
(Press Relation – Restaurants)
Kat's passion for the arts, culture and travel developed into a career spanning Australia, Europe, Japan and South East Asia. She has an extensive background in marketing, PR, event producing and journalism. With a natural inclination for listening and observing, Kat has a special interest in seeking out stories and places of curiosity and inspiration. She has been heading Secret Retreats PR since 2015.
Benjamin Ferret
(Director of Marketing and Communications)
Having graduated from Glion Institute of Higher Education with a bachelor's degree in Hospitality and Business Management, he has the passion for the industry and the knowledge to back it up. Born in France and raised in Thailand, he has been exposed to the hospitality industry since he was young. Having studied in Switzerland and in London while growing up in Asia, he has experienced the industry in many different cultures. He loves traveling to new places and exploring the world to find the most unique destinations. He aspires to become an expert in the field and hopes to be able to travel and experience the hidden beauties of the world.
Deloni Hanis Mareta
(Reservation & Marketing Secret Retreats Korea)
Originally from Surabaya, Indonesia. She received her master's education in South Korea and started her career there as well. Started as a tour guide when she was still studying for her master's with an Interior Design major, she fell in love with the tourism field and started her career in tourism right after graduation. Now she has been working in the tourism field for around 5 years, in Sales and Marketing positions, focusing on South Korean destinations for Asia and Europe markets. Although she's not Korean, she has a lot of interest in Korea's history and heritage.
Stephanie Hoarau
(Reservation & Concierge (France))
Over 30 years ago, when she started to work in the tourism industry, she was not aware that her passion for travel would reshape her whole life! With Asian origins, it is quite naturally that she became a travel specialist for this continent. She has also worked with Doris Servat and Bruno Ferret for many years within the "Ateliers du voyages". Travel is a way escape, to learn, to open the mind, exchange and interact. Since then, she shares her passion for travel and her discoveries in each destination! She is a fervent believer in a virtuous tourism, respectful of environment and local communities, as defined by Secret Retreats.
Doris Servat
(Reservation & Concierge (France))
With a Swiss German nationality, Doris has known since her childhood that her life will be made up of travel and discovery. Very young, she left her native country to explore the world, starting from Tunisia where she worked as a local guide for Swiss tourists. Long stays followed in South Africa, Greece and then South Korea where she discovered Asian culture. After her arrival in France and the meeting with Bruno Ferret in 1988, a new adventure was offered to her, the development of tailor-made and individual travel within Yoketai, which became Les Ateliers du Voyages. This activity allowed Doris to continue to travel Asia in search of unusual places for the happiness of travelers.
Warantorn Wongpratang (Noey)
Reservation & Concierge
Raised in Chiang Mai, where she developed a deep appreciation for local culture and the impact it has on society. She graduated from Chiang Mai University with a degree in law and leveraged her education to further her interest in Southeast Asian culture movement. Noey is a wanderlust at heart and loves to explore new places and learn about different cultures. With her passion for travel and social impact, Noey strives to provide guests with unique travel experiences that support and give back to local communities.
Auchariya Wongsaow (Smile)
Reservation & Concierge
Originally from Phuket, Thailand, Smile is experienced in hotel management, online customer support, outbound call centers, marketing, and content creation. Having graduated with a Bachelor's of Arts in English, Smile enjoys socializing and meeting new people, so she chose to turn that into her career. She brings a diverse set of skills to the team and aims to provide an exceptional experience for our guests. She aims to connect and inspire the community while helping each other grow.
---
---
«
The story of Secret Retreats is one of community, the story of the Secret Retreats plaque is one of community too.
»
Chiang Mai was founded by, and became home to, many
communities of artisans
. Over time, many of these artisan skills are dying out and disappearing from the communities, taking the cottage industry that supports them and the
unique local heritage
with them. Phra Phairat of Sri Suphan temple decided to revive his community's artistic heritage and promote artistic endeavours and opportunity through teaching the novice monks and lay people the craft of repoussé-work (metal embossing) that his Wualai community was built on nearly 700 years ago.
Phra Phairat's work has lead to 100s of students studying the traditional crafts from their communities, and inspired other temples to research and revive the traditional crafts that their communities were founded on, creating opportunities for cottage industries across north Thailand. Secret Retreats is supporting Phra Phairat's work with
all our plaques being made by the novice monks
of Sri Suphan temple, Chiang Mai.
The Secret Retreats logo, the marque of our community,
ensures travellers of unique and sincere experiences, and quality hospitality
.
---
Web graphic charter designed by
Goopil.com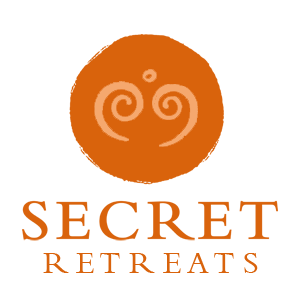 Travel Asia with Secret Retreats
Secret Retreats is a curated community of independent boutique hotel, villas, yachts and river boats keen to share their Asian Homes with travelers, sustainably and responsibly. Conservation of the environment, culture and traditions of Asia is of paramount importance to all in Secret Retreats. A community of like-minded hospitality professionals, we offer our guests authentic travel experiences that go beyond typical offerings to unveil the essence of Asia. Supporting the Asia based hoteliers and hospitality professionals and providing incredible holidays in Asia and tailor-made Asia travel itineraries direct to public ad travel agents.
Get inspired and make savings!
By booking direct with Secret Retreats and enjoy peace of mind from our full on the ground support. Contact our concierge and plan then book your Asia holiday now!
Over 100,000 subscriptions and counting, don't miss out! Subscribe to our newsletter an discover Asia with Secret Retreats