7 (+1) Secret Wonders of Asia
In case you've strolled the Great Wall of China, explored Angkor Wat in Cambodia, cruised around Hạ Long Bay in Vietnam, and gazed in wonder at the Taj Mahal in India. What's next in Asia? We have to say... so, so much more! Asia is an extraordinary continent that is absolutely packed with wonders. From secret mesmerizing lakes to beautiful ancient towns. Here we share with you 7 (+1) hidden wonders in Asia to get you off the beaten track. We hope you enjoy our list of seven secret wonders in Asia.
Inle Lake may not be the largest lake in Myanmar (at 50sq miles it is the second largest lake) but we think it is both the most fascinating and the most picturesque. It was also recognized, and protected, as one of the World's Biosphere Reserves in 2015. A place where the water, mountain and sky seem to merge with one another as the colours blend into shades of blue and grey as if painted by the hand of an impressionist painter across the vista spread before you. Here there are whole villages perched on stilts just above the water, temples, monasteries, schools, even floating gardens.
For the Inthar people who call Inle home, their entire life is lived on and supported by this magical lake. A lake that is also a home, a place of worship, a market garden, and the lifeblood of a whole community against the backdrop of the Blue Mountains along its eastern flank. Inle Lake is also renowned in Myanmar for the traditional form of fishing practiced by the Inthar fishermen where the fishermen pilot and row their canoes with their feet, a technique that is said to date back for more than 800years (…)
Raja Ampat: Amazon of the Sea
Myth-enshrined ancestors form the basis of Papua's modern social structure. 'Raja' translates as king, while 'Ampat' means four, and these 4 kings reside off the far eastern tip of Indonesia, in West Papua. According to legend, eggs laid by the mega bird of Waigeo hatched into four legendary kings who settled the archipelago's four biggest islands, from north to south Waigeo, Salawati, Batanta and Misool. These four kings then fathered Raja Ampat's original people, the Maya. The archipelago is comprised of more than 600 islands, as well as an additional 900 more shoals and islets over an area of some 40,000 km2 / 15,444 miles2 and is 7 times the size of the Island of Gods, Bali.
Known as the Amazon of the Sea, Raja Ampat is home to 533 out 798 known coral species, which is 75% of the world's coral species. Diving or snorkeling these waters, you will have the chance to encounter up to 1,437 reef fish species. The reefs are are some of the most pristine, and most biodiverse in the world today (…)
Muang La: Meet the People of Heaven
A mosaic of traditional ethnic tribes, Laos is home to 130 different and recognized tribal groups. Some of these tribes only have a few hundred people and are only found in the hills of Laos. Sadly, development and the demands of the modern world to demarcate and control threatens many of these ancient peoples. And the minorities that do not have a written history are at the biggest risk of disappearing completely.
At Muang La, you will get the now all too rare chance to meet and learn about some of the ancient ethnic communities that have long lived in the mountains of what is now known as northern Laos. Some are people that originated in north China and Tibet, and these tribes of once were nomadic hunter-gatherers are called the People of Heaven by the Lao people living on the plains. The villages of the People of Heaven are typically found at locations 1,000m above sea level, built into the sides of jungle covered mountains, where the villagers retain their centuries old, traditions and customs (…)
Wonders never cease when meeting these ethnic groups, as each meeting reveals a way of life that is in tune with the environment, truly sustainable, unchanged by the passage of time and centred, guided and protected by an animist faith, a belief in the spirit world.
Pingyao: A little piece of Ancient China
Now a UNESCO World Heritage Site, Pingyao has the last remaining intact Ming Dynasty city walls that encircle medieval streets, lanes and buildings. Located about 4hours by high-speed train south west of Beijing, a trip to Pingyao can also be easily combined with a visit to Xian and the Terracotta Warriors. The city exudes history and transports you back in time to the era of the great Emperors. The remarkably well-preserved shops and houses really give the visitor a sense of how life was during the period of Imperial rule and hence the city is fast becoming the high point on a growing number of people's travel plans to China. The ancient centre is best discovered on foot.
A walking tour will take you through the narrow streets with their Qing Dynasty shops and houses and give you the chance to see the enormous and intact city walls. Also, we would recommend a visit to the Double Forest (Shuanglin) Temple, located 7km outside of Pingyao Ancient City. This temple was originally founded in the 6th century, but the present buildings date back to the Ming and Qing dynasties (…)
Darjeeling:
The Emerald-green Tea Plantations
Darjeeling, nestled among the verdant foothills of the Himalayas, is a perfect destination for outdoor enthusiasts. A picturesque town in the Indian state of West Bengal, the region is blessed by vistas filled with iconic snowy mountain peaks and blanketed by bright green plantations of tea. The majestic Kanchenjunga (also known as Kangchenjunga), the 3rd highest mountain in the world, towers over this beautiful town. Popularly known as the Queen of the Hills, Darjeeling has long been a favourite hill retreat, a place for tourism and relaxation to escape the heat of lowland India. The region is celebrated for its scenic beauty, ancient forests, quaint houses, unique cultures and friendly people, and the simply breathtaking mountain panorama that it provides.
Popular places to visit include Tiger Hill, Darjeeling's delightful toy train and the Batasia Loop, and the Himalayan Zoological Park and the Snow Leopard Breeding Center.
Sabah: Borneo's Pygmy Elephants
The smallest subspecies of elephants in the world, Bornean pygmy elephants are distinctly smaller and behaviorally different from the elephants of mainland Asia. Their peaceful nature leads some scientists to believe they are descendants of a once domestic herd. They have long tails that sometimes touch the ground, relatively large ears, and straighter tusks. While known for their relatively diminutive stature, at 8 to 9 feet tall, the Bornean elephant is though still the largest mammal on the island.
Once believed to be remnants of a domesticated herd given to the Sultan of Sulu in the 17th century, Bornean elephants have been determined by research teams from the WWF to be genetically different from other Asian elephants. DNA evidence proved that these elephants were isolated about 300,000 years ago from their cousins on mainland Asia and Sumatra.
Sadly today, pygmy elephants are an endangered species, and only an estimated 1,500 individuals remain in the wild, mostly found in Sabah in Malaysian Borneo.
Sri Lanka: Sigiriya – The Lion Rock
Deep in the middle of Sri Lanka, Sigiriya, also known as Lion Rock, is a gigantic ancient megalithic Sri Lankan rock located near the city of Dambulla. It is a spectacular 200m high natural formation that, at its top, preserves the ruins of an ancient, fortified palace. This amazing archaeological site was recognized as a UNESCO World Heritage Site in 1982.
The Sigiriya rock is the eroded remains of an extinct volcano. The citadel situated on its summit is carved entirely from the rock. Built in 405AD by King Kaspaya, the citadel and fortress are surrounded by an extensive wall that once housed fountains, gardens, ponds and splendid boulevards, but above all an impregnable kingdom capable of dominating the population from above. The only access to the complex is a steep staircase of 1,200 steps, guarded by two enormous lion's paws carved in the rock, hence the local name of 'lion rock' (…)
Sigiriya is visible from miles away and rises majestically from the surrounding plains and rewards those that climb its 1,200steps to the top with panoramic views which are absolutely breathtaking.
Sam Phan Bok, The Grand Canyon of Thailand
This natural wonder, the Sam Phan Bok (translates as 3000 holes), is located in the bed of the Mekong River in Ubon Ratchathani, a province of north eastern (as known as Isan) Thailand. The passage of the Mekong over millions of years has carved out the sandstone riverbed into canyons and pools and became the beautiful Sam Phan Bok today. This wonder only appears from late November to May, when the river withdraws, and the rock structures become visible. The Sam Phan Bok is where nature's stonemasons have carved countless pools, bowls canyons and crevasses from the ancient sandstone riverbed. A unique landscape it is a photographer's paradise. The most popular Bok that has become the Instagram hero of the region is the arch bridge-shaped stone cliff, which is especially beautiful in the evening as the sun sets over this prehistoric landscape.
If you are looking for inspiration for your next holiday, then look no further than our unique collection of hotels and locally crafted Journeys and Itineraries. By booking direct with Secret Retreats, you travel with the peace of mind of having a full team, both office based and on the ground, ready and on-hand to support you when needed, from planning and through every step of your holiday. Contact our concierge and plan then book your Asia holiday now!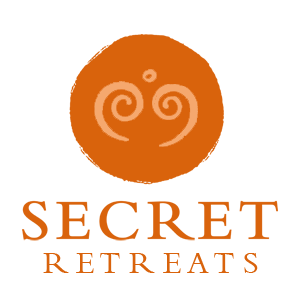 Voyagez au cœur de l'Asie avec Secret Retreats
Secret Retreats est une communauté d'hôtels de charme indépendants, de villas, de croisières en mer ou sur les fleuves d'Asie, dont les propriétaires partagent tous une même passion du voyage, de leurs cultures et traditions et aiment à les faire découvrir de manière responsable. Cette volonté de préserver l'environnement, la culture et les traditions dans lesquels nous vivons ici est essentielle pour nous tous dans un monde où le danger est l'uniformisation et le non-respect. Professionnels de l'hôtellerie aux valeurs communes, nous souhaitons vous offrir des expériences de voyages authentiques et originaux qui vous feront découvrir l'essence même de l'Asie.

Laissez-nous vous inspirer et prendre soin de votre portefeuille en même temps!
Réservez directement avec Secret Retreats et partez en toute tranquillité avec notre assistance sur le terrain. Contactez nos conseillers voyages et planifiez avec eux un voyage inoubliable en en Asie!
Plus de 100 000 personnes reçoivent déjà nos newsletters pour découvrir l'Asie. Ajoutez-votre email: